Il Pellicano Hotel Porto Ercole
We like to discover new places and new hotels, and today we bring to you all you need to know about Il Pellicano Hotel in Tuscany Italy. If you are planning your next trip and you are looking for a romantic getaway or you are planning your honeymoon, Il Pellicano Hotel is the place to go.
Opened on the 2nd of June 1965, IL PELLICANO was built to commemorate the love of British ex-Royal Air Force (RAF) aviator Michael Graham, with American jet setter, Patsy Daszel, who choose this impervious spot on the Argentario peninsula to build a secluded resort reminiscent of Pelican Point, the Californian promontory where they had first met years before. Michael Graham was the only survivor of a plane crash in Africa in the mid-1950s.
The news, widely reported by the European and American press, shocked American socialite Patsy Daszel, and she cut out the article and pasted it in her diary, hoping someday to meet that brave and lucky British soldier. Like a fairy tale, her wish came true, and it was love at first sight.
After many travels around the world, a common friend, Prince Tinti Borghese, introduced them to a stretch of cliffs overlooking the sea in the midst of the magnificent nature of Monte Argentario. The rugged cliffs and wild nature of this unexplored bay offered the perfect background for their love and the ideal location in which to establish a select club for their guests such as Charlie Chaplin, Henry Fonda, Gianni Agnelli, Slim Aarons, and all the European Royalty.
The New Owner
A regular guest of the Graham's, and also a friend, was Roberto Sciò, a charismatic Italian businessman who loved the place so much that he ended up buying the property in 1979. IL PELLICANO was home to the Grahams and is still home to Mr. Sciò and his guests and now, nearly fifty years after its foundation, IL PELLICANO is a world-famous hotel, more with the flair of a private home.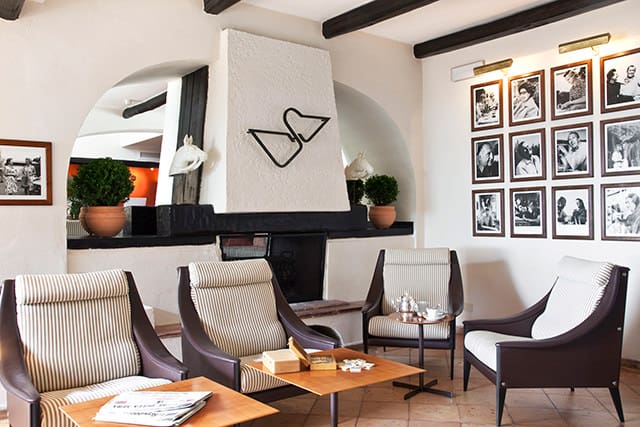 This is the hotel to fall in love with is turning 50 years in 2015, and celebrating they have a really special celebration package from June 5th to 7th, 2015. The landscaping and the property of the hotel are just perfect.
This little piece of heaven has only 50 rooms, and all the rooms are stunning, with a great view of the sea. The landscaping and the property of the hotel are just perfect, with a beautiful beach and crystal clear water.
Restaurants
Il Pellicano hotel has two restaurants, The Michelin star for dinner, and the Pelligrill for lunch or dinner, the selection of wines, is just spectacular and the service is really particular, because the staff is well training and engaging but never intrusive, and they ensure, that all your needs are met.
There is no doubt that this hotel is the perfect destination for a romantic weekend with your significant other, where you can really relax with so many body treatments from the wellness area, that you will want to freeze the time and never leave.
The Spa
All the treatments at the Pelliclub Health & the Beauty Centre in Tuscany use products from Officina Profumo Farmaceutica di Santa Maria Novella of Florence, known worldwide for its health and beauty products. Santa Maria Novella creations use floral and plant extracts, essential oils, and natural active ingredients. But Pelliclub Health & Beauty goes even further by ensuring that all wellness and beauty rituals made entirely by hand.
Choose from the Detox, Revitalizing or Relaxation programs, and for two hours you will be pampered and massaged with effleurage and acupressure using oils and floral and plant extracts, cane sugar and orange blossom honey, plus salt and aromatic vinegar, and manual massage.
Officina Profumo Farmaceutica
Officina Profumo Farmaceutica di Santa Maria Novella was founded 400 years ago as a laboratory by Dominican monks who used the medicinal herbs cultivated in their own gardens to prepare medications, unguents, and ointments for use in the monastery's infirmary.
Florentine lords soon learned about the quality and effectiveness of the monks' products and began buying them to treat themselves. This is how the therapeutic remedies and perfumes for noblemen using citrus essences and flowers came to be discovered by the public. After four centuries, L'Officina di Santa Maria Novella has become an actual cosmetic industry, but one that has retained its artisanal soul.
Pelliclub Health & Beauty uses strictly natural thermal clays, aromatic herbs and floral and plant essences for treatments that are performed by our staff who have been trained in the methods used by Officina di Santa Maria Novella. Entirely by hand, without the use of any machines.
You can also discover the little beaches along the coast and the wonderful bays of Monte Argentario spending a couple of hours or a half-day departing directly from Pellicano's beach.
On the wild and un-spoilt west coast of Monte Argentario, the beaches are much smaller and harder to get to, making them relatively un-crowded even in the high season of July and August. In fact, these beaches can only be accessed by boat.
If you are looking for a romantic getaway or, Il Pellicano is your answer…