Homemade Pancakes Recipe Easy
There is nothing I love the most than perfect pancakes. This Pancakes recipe is very thick and fluffy and is the best excuse to make a long breakfast on Sunday with your family and sit all together and enjoy a great time.
After trying many pancakes recipes, I stumble upon a great easy pancake recipe that tries and since them is my favorite pancakes recipe of all. They are very simple to do and let me assure you they are fluffy. What I love is how simple and easy this pancake recipe is. This Pancakes recipe is very thick and because it has 3 ½ teaspoons of backing powder they are very fluffy. Important is not to over mix them, is better if you have some lumps on the batter. This pancakes recipe is also without buttermilk, but if you like the buttermilk taste you can substitute the milk for buttermilk. If you don't have buttermilk at home, and you still want that acid flavor you can mix the milk with 2 teaspoons of white vinegar.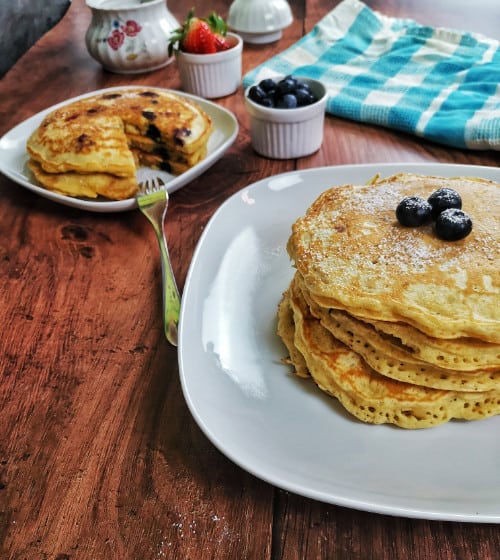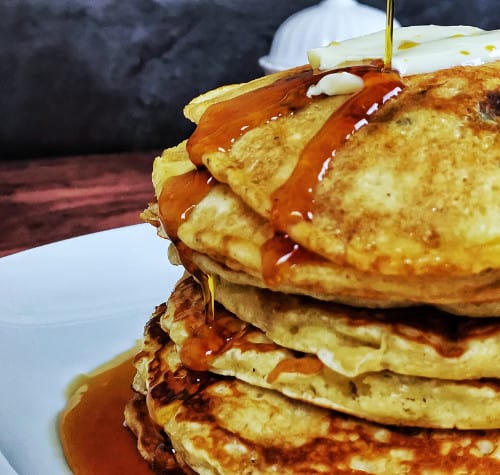 Can I use the same Pancake Recipe for Waffles?
Well no because Waffles has more butter than this recipe and more sugar. If you want to use this pancake recipe for waffles you will need to change this recipe a lit bit.
Can I reheat pancakes?
Sure, you can! Just be sure to add a bit of butter to the pan, and on low temperature re-fried your pancake. You can also reheat your pancake in the microwave for 10-15 seconds.
Can I use any topping for pancakes?
Of course, you can! Just get creative! Just because you are making some pancakes, doesn't mean, you are allowed to eat them with maple syrup. You can add mix berries, with some powdered sugar, you can add vanilla ice cream, Nutella or some bananas. You can even add some blueberries to the batter to make blueberry pancakes. Another topping that I love for my pancake is to put some shred salty white cheese on top together with honey. This topping I love because I like the combination of the salty white cheese with the honey. I know that might be a bit unusual but if you give it a try, maybe you will be surprised by how delicious this combination is.
When I know is the best time to flip a pancake?
It is important to use medium temperature, remember you want the perfect pancake, so it's better to cook them slowly. After you put the batter on the pan wait for at least 3 min or when bubbles start to form and pop on the top and then you can flip it. Let it sit for another 3 min.
Can I freeze my pancakes?
Yes, you can! And the best way to freeze your pancakes is individual, and you can reheat them in the microwave for 10-15 second or refried them in a bit butter
Ingredients
360

grams

flour

4

tbsp

sugar

2

tsp

salt

1 1/2

tsp

baking soda

1 1/2

tsp

baking powder

600

ml

buttermilk

175

grams

melted butter

2

eggs
Directions
In a large bowl mix the flour, salt, sugar, baking powder and baking soda

In a medium bowl Mix the butter milk, the egg, and melted butter

Combine all the ingredient and mix it until is smooth, and lumpy

Heat a frying pan with a bit of butter, and add a scoop of the batter, add blueberries ( or chocolate chips if you want) and cook each side for 3 min approximately, or till bubbles start to form and pop and flip it and cook it for another 3 min
Video
Nutrition
Serving:
1
pancake
|
Calories:
139
kcal
|
Carbohydrates:
19
g
|
Protein:
3
g
|
Fat:
5
g