NEON16 Talent incubator
Fernanda Arcay is the head of marketing for the talent incubator NEON16. She is from Venezuela and she has worked in the music industry for many years. Fernanda clients include singers like Mau y Ricky, Darell, Abraham Mateo, Maffio, Pipe Bueno, Alex Rose, Feid, Ivy Queen, Jhay Cortez, and many others. Not to mention, that she take the artists to all the awards like Billboard Latino, Latin Grammys, LAMAS, Premios Juventud, Premio lo Nuestro.
We talked to Fernanda to know more about her career as head of marketing, and how NEON16 work as a talent incubator.
Dear Fernanda tell us about yourself 
I'm a proud Latina from Venezuela, I have been living in the US for four years now. I graduated Cum Laude from the University of South Florida with a bachelor's degree in Mass Communications. During my first summer at USF, I applied for an internship in Public Relations agency, Beats Communications. I wanted to stay active and productive during the summer, and this was my best option. During my months there, I realized that I found my passion and what I really like to do in life – which is music. Music makes me feel inspired and helping others achieve their dreams, and being part of that gives me the utmost satisfaction. Since then, I decided that the path I wanted to take in both my life and career. I have always been a very creative person, and I've always enjoyed music in all its senses, different genres: from Reggeaton to Pop to Rap. I like to soak in different cultures through music. You can also learn a lot about someone by looking at their music tastes.
Tell us about NEON16
NEON16 is a talent incubator based in Miami, FL. The funny thing about NEON16 was that when it first opened up, I remember I looked at their socials and told my sister to take a look at this brand new and cool company, I never thought I would end up being part of the team.
NEON16 has in their roster #1 Latin producer, TAINY. The creative genius that he is, he is responsible for worldwide hit records such as "Callaita" with Bad Bunny, Cardi B's "I Like It", Bad Bunny's "x100pre" album and recently "YHLQMDLG" as well as "Las Que No Iban A Salir". He is also responsible for producing "I Can't Get Enough" alongside Benny Blanco, Selena Gomez, and J Balvin, as well as co-producing Justin Bieber's "Habitual".
Additionally, NEON16 counts with an amazing set of producers and songwriters – responsible for other massive hits in Latin music. We are currently developing new artists that will for sure leave their mark in the music industry: Colombian Dylan Fuentes and Puerto Rican Kris Floyd.
 What's great from NEON16 is that we do everything differently. Our approach stands out from the rest both music-wise and creatively, and we have done outstanding music events that no one has ever done before, like the first E-Gaming Tournament experience with A-level artists. It really is a company that brings everything to the table and continues to break boundaries.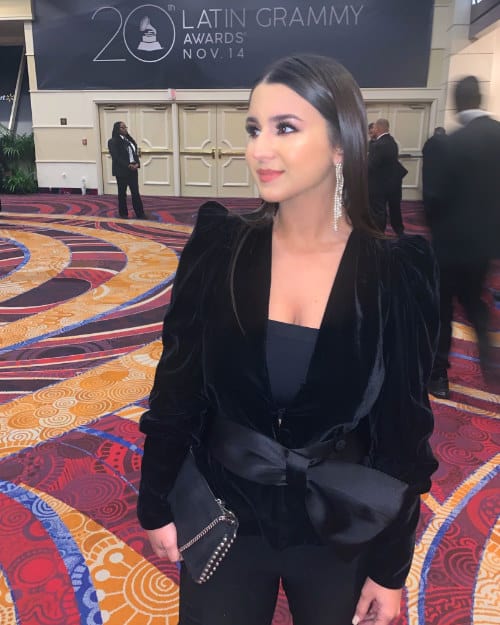 Tell us about your duties as a Head of Marketing and communication for NEON16
My daily duties involve from deciding budgets for digital campaigns to run for our different artists to working hand in hand with our creative & communications teams on deciding what design is better, reviewing and approving written communications to distribute, coordinating social media assets and calendars without the digital team, as well as overall coordinating with everyone in the team and making sure everything gets done. I also have to coordinate with our partnered record labels on release dates, times, streaming platforms support, etc. I would say that I do a little bit of everything.
Tell us about your experience in Billboard Latino 
I have attended multiple Latin Billboard Awards, and I have always had a great experience. During these award weeks, you can feel the adrenaline and passion heightened. Being surrounded by music and people from the music industry for several consecutive days and 24/7 makes me feel even better and makes me feel I made the right decision about working in this industry.
What about the Latin Grammys?
The Latin GRAMMYs are also another surreal experience. I guess you never get used to it, walking down the red carpets and having huge stars beside you, or going to rehearsals and having that intimate experience with the artists that are there. Like I was mentioning before, being surrounded by people that feel the same passion for music like you do, makes the experience that much better. Listening to exclusive performances and interviews makes you learn a lot as well. Latin Grammy's are always something that I look forward to.
How does NEON16 select the artist to work with?
NEON16 is always looking for new artists and music. We are open to listening to everyone and giving everyone a chance to send in their music. During quarantine, we had this "NEON16 Stay At Home Series", where each day a member from our team would go live and give advice to those aspiring artists, producers, composers, etc. We even had "A&R Thursdays", where our Head of A&R would listen to hundreds of music submissions and give his thoughts on the records. It was a great & prolific activity.
What is the next step for Neon16 
NEON16 is definitely a company that will continue to break musical boundaries and barriers. We are always trying to stay one step ahead in the game, trying to take our music and creativity to the next level – and we have been successful in doing so. We will continue pushing ourselves even further so we can all achieve our dreams and goals.
To know more about NEON16, please click here