How to make Shumai (Siu Mai dim sum)
Today I am going to show you, how to prepare dim sum shumai or Siu Mai. Shumai is a traditional dim sum originated from Hohhot. Not to mention that Japan and various southeast also has their own variation shaomai.
Shumai (Siu Mai dim sum) is a mix between pork and shrimps that is steamed. In this step by step guide I am going to show you how to prepare them and how to wrap a Shumai (Siu Mai dim sum)
Seriously they are so easy to prepare, that we cannot get enough of them, and we end preparing them almost every weekend.
Shumai Siu Mai Dim Sum or dumplings Origin
Dim Sum is one of my favorite things of all, I love to go to a Chinese restaurant and just order dim sum. Normally they are considered as Cantonese, and by tradition are served with tea. They are served as bite-sized small portions and they come in many varieties.
Yum Cha is a traditional Cantonese practice and means drink tea. The owners the teahouses discovered that tea could help with digestion, therefore they start to offer a different snack and this lead to the actual yum cha tradition.
The dim sum dishes that we all love are believed to originate in Guangzhou and afterward spread to Hong Kong. What's interesting is that a lot of Restaurants started to serve dim sum as early as five in the morning and every restaurant will have its own recipe.
You can find all sort of dim sum recipes, such as from rice, steam bun, wheat dumplings and they can be filled with pork, beef, chicken, prawns or even vegetarian. As you can see there is a dim sum for everybody.
Dim sum can be fried, can be steamed, but the best part is that they are very easy to make. You can also try out the Har Gow Shrimp dim sum recipe here.
How many types of dim sum exist?
There are around 1oo different dim sums. A traditional brunch includes different types, like steam, fried, dim sum soup, sesame balls, etc.
How can you cook a dim sum?
There are different ways to cook a dim sum, depending on the type that you are making. Therefore, you can fry them, steam them or cook them in a soup. Dim Sum is often filled with a mixture of meat and vegetables.
Can you freeze a dim sum?
Yes, you can! You can take one day and make the double of the recipe, and freeze, the rest. To cook them after they are frozen, you can just fry them, or steam them.
Can I change the filling?
Yes, you can! You can substitute the filling as you wish if you want to substitute the pork for chicken, or if you just want to left out the prawns, you can do it. You can also add shiitake mushrooms, garlic, green onions. You can also use the wonton wrappers and fill them, with prawns and garlic and fried them. Remember, with this base recipe, you can experiment and add whatever you want.
Which sauce I can use to serve a Shumai (Siu Mai dim sum)?
There are of course many options here. I particularly love Hoisin sauce. I like the sweetness of the Hoisin mixed with the Shumai or Siu mai. Other possibility is to mix soy sauce with chili oil. Nevertheless, I always keep both options on the table and I alternated between both of them.
A classic dipping sauce would be hot mustard, but again this is personal choice.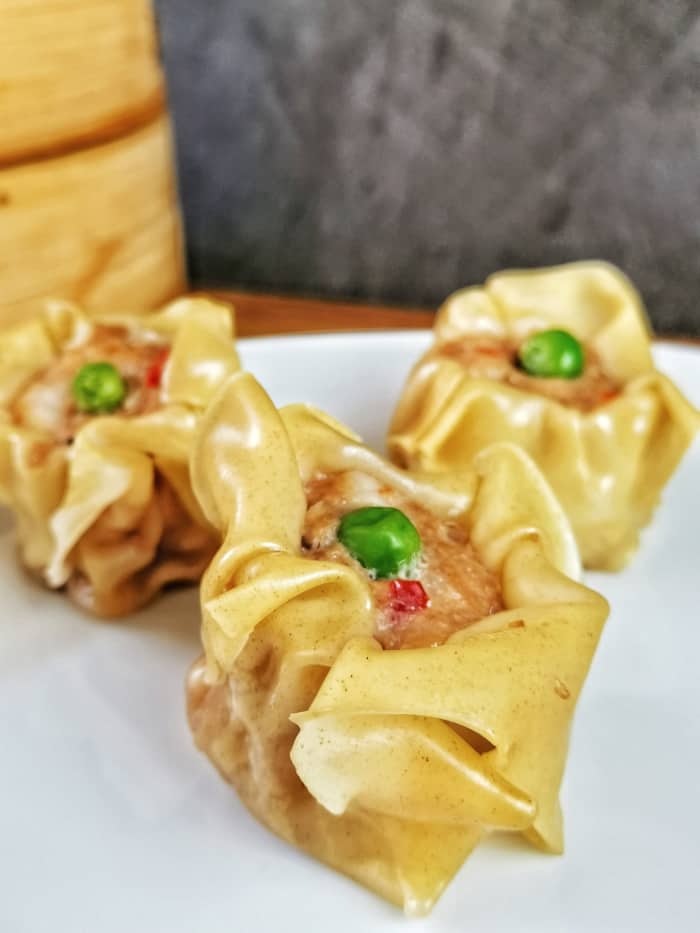 How I learned to prepare the chinese dim sum
A couple of months ago, I took with my dearest friend Angelika, a one-day course to learn how to prepare them. The fun fact is that with this basic and easy recipe, you can create your own.
I was lucky enough that the teacher teaches us how to make my favorite dim sum the Siu Mai: Pork and Prawn dumpling. This type of dim sum is exactly what I am going to show you today, and how can you even create your own with simple steps.
Go to the local Market to find fresh ingredients
First, I take a walk to Naschmarkt. Naschmarkt is one of the most popular markets in Vienna and since 1793 vegetables and fruits where brought to this market.
What of the things I loved about this market is that is easy to get inspired. You can find everything in this market, and the most important is that is fresh. Therefore my place to find the freshest prawns in a country without a see is, of course, there. Not to mention that you can also find fresh meat, like in this case the 300 grams of ground pork that I need for this recipe.
My advice is to pick a piece of pork with a little bit of fat, for example, a good piece here in Vienna is the Schopfbraten that would the collar steak part. After I pick my piece I ask for that piece to be ground, like this, I can be sure that I am getting the freshest pieces.
Another good idea to go to Naschmarkt is that there is a lot of Chinese shops where you can find the rest of the ingredients, like the soya sauce, oyster sauce, sesame oil, and wonton wrappers. The wonton wrappers you can find them frozen and ready to use, which makes your work even easier at the moment you do this recipe.
Also, pick a bamboo steamer that fits one of your pan
Equipment
Bamboo Steamer Basket

Food Processor
Ingredients
300

grams

ground pork

collar steak cut is always a good one

300

grams

ground prawns

Tiger prawns

5

tbsp

soy sauce

My recommendation Kikkoman Soy Sauce

2

tsp

oyster sauce

2

tsp

sesame oil

2

tsp

sugar

Brown sugar gives an intensive Flavor

1

tsp

salt

sea salt or table salt

20

pieces

wonton skins

Choose a package that has a darker color

2

chili pepers

1

minced onion
Directions
Take a food processor and grind the prawns add the ground pork and the rest of the ingredients, to mix everything well

Take the wonton skins and place between your thumb and the forefinger, add the filing in the middle and carefully push up the rest of the skin and push with a teaspoon the filling. Flat the base so the dim sum can sit straight on the steamer.

Take a pan filled it with water and place your bamboo steamer on the top and basket with a leaf of Chinese cabbage o baking paper with holes so you can put on top your dim sums.

Put the dim sum in the bamboo steamer basket, cover and steam for about 12 min
Video
Notes
After you try this dim sum recipe for the first time, you will see is very easy to create your own style. You can add just prawns or just pork. You can also buy the rice skin wrappers and add just prawns and steam them. You can also take the wonton skin, add the filling, roll them and fried them. As you can see there is no limit to get creative.
Nutrition
Serving:
1
g
|
Calories:
45
kcal
|
Carbohydrates:
4
g
|
Protein:
2
g
|
Fat:
2
g