Trina Merry Body Artist
Trina Merry is a magnificent artist; she merges the body paint with photography, creating incredible pictures where she camouflages her models into New York's surroundings. Trina and her models need between 13 to 18 hours to get the final photo. The models are painted in different degrees with hypoallergenic natural body paint.
We make an interview with Trina Merry, to discover more about her creative process…
Tell us a little bit about yourself?
I'm a visual artist from New York, who has a lot of amazing adventures and gets I meet and paint on incredible people.
How long have you been a photographer?
I started documenting my work in April.
How would you describe your style?
Intimate & conceptual
Where did you find your inspiration?
I'm constantly inspired by everything around or inside of me. It's difficult to keep up with my imagination.
How the idea of body painting and photography came together?
Bodypaint is a temporary experience. It's nice to document it to share it with others or remember those feelings and experience again later.
Where was your first picture with body paint?
San Jose, CA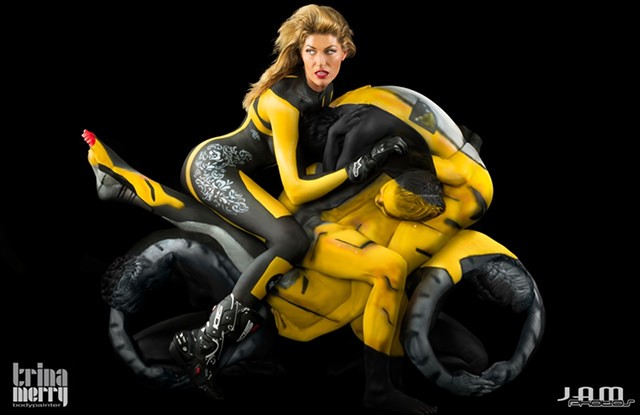 In which project are you working right now?
I just wrapped some commercial projects and were getting back to experimenting this month- I'll be playing with video and human sculptures. I'm also creating a living installation for the San Jose Museum of art that will be performed live on November 18th.
Which is your next big photo?
It's top-secret, but I just did an amazing campaign, and the images should be released in about a month.
What did you always dream to photograph?
I don't dream about photography at all. To me, it is a medium that takes from the environment. I am a giver & creator- I like to make something. Photography is just a way to document the climax of the job. The experience transforms me and lives in my heart- I don't need to possess a job. But I enjoy sharing so now I take pictures. I largely don't let others photograph my work because it's an unnecessary layer of miscommunication of the piece to others.