Latin Grammy winner Kristhyan Benitez
The Venezuelan pianist Kristhyan Benitez just won the Best Classical Music Album at the Latin Grammy awards 2021. 
Kristhyan began studying piano at the age of 4 in the Music school Emil Friedman in Caracas Venezuela. Not to mention that he has performed at prestigious venues such as Philharmonie Hall (Berlin), Davies Symphony Hall (San Francisco), Town Hall (New York), National Center for Performing Arts (Beijing), Ehrbar Saal (Vienna), Salle. Cortot (Paris), Amadeo Roldan Theater (Havana), Palace of Fine Arts (Mexico City) and the Ríos Reyna del Teresa Carreño room (Caracas).
When I was a child I attend to musical famous school "Colegio Friedman" in Caracas, and a lot of friends started their musical career there.
Kristhyan Benitez was one of them, and actually, we study together in the same classroom. Twenty years passed, and today Kristhyan is one of the brilliant pianist leaders of the Venezuelan musical process and the continent… That's how Jose Antonio Abreu, the founder of the Orchestra System of Venezuela, defines him.
For many people Kristhyan is considered, to be one of the best pianists of his generation, he has played with the Berliner Philharmonic, with San Francisco Symphony Orchestra, Miami Symphony Orchestra, to name a few.
Phillippe Entremont described Kristhyan: "His commitment, talent, imagination, drive, passion, and intelligence make Kristhyan an outstanding musician and performer."
Kristhyan Benitez is part of a new group of Venezuelan musicians getting international attention, thanks to their commitment and hard work. 
Kristhyan Benitez's first album was Beethoven Piano Concerto No. 2 with the Berlin Symphoniker under the direction of Eduardo Marturet. He also released a second album: Miniatures in 2016, which made him win the bronze medal at the Global Music Awards. Nosotros his third album was released in 2020. Latin American Classics is his first album recorded by STEINWAY & SONS label.
"My God, I can't believe it!" Said Kristhyan when he received the gramophone. And he added: "Thank God, thank my family who is in Venezuela, thank my husband Juan who is here with me."
Kristhyan Benitez also thanked Feidner "For believing in Latin American classical music."
He dedicated it to the Venezuelan diaspora. "Wherever they are, we can continue dreaming, we can continue to grow and leave the name of Venezuela high. Yes, you can!" He declared.
In addition, Kristhyan appeared at the Latin Grammy ceremony with two of his nails painted yellow, as part of an awareness campaign on child violence.
Apple Music selected two of the tracks from Kristhyan Benítez's album, Adiós a Cuba y Córdoba, to be listed on The A List: Classical.
At the event, the musician faced the Latin Grammy with the conductor Jordi Savall, for Beethoven: révolution, symphonies 1 à 5, Jordi Savall and Le Concert des Nations; with Ney Fialkow and Hugo Pilger, by Claudio Santoro: a complete work for cello and piano; with Manuel Barrueco for Music From Cuba And Spain, Sierra: Sonata for guitar; and with Héctor Infanzón for Tres stories concertantes.
When did you start playing the piano?
I started when I was 4. My mom wanted me to play guitar but when I had to choose which instrument I wanted to learn and I decided I wanted to play the piano. I guess there was some ambition there because of the piano, was the biggest instrument in the whole room.
When did you know, playing the piano was your dream?
I had my first professional concert 3 months after I started learning how to play the piano. It has been always a part of me. I had it and I still have the love and cherish for the music I guess is imprinted in my DNA.
At first, a child learned the alphabet. In my case, I learned reading music instead.
Your first concert as a pianist was at the age of 4 in honor for the honor of maestro José Antonio Abreu, the founder of the National System of Youth and Children's Orchestras of Venezuela. When you look back what do you remember from that concert, which marks you today as a musician?
Again, I was 4. The first time ever that I wear a tuxedo. Although I didn't even know how to walk with patent leather shoes I did my best. I remembered my mom telling that I was walking like a little penguin, haha. I played two pieces and when I finished the first time I turn to the audience, I smile, full of joy.
It was so natural for me. I would go back and do it again!!! It was truly the best night of life. For that moment on, Jose Antonio Abreu was a true believer in my talent and my capabilities as a pianist and he supporter in my career. I started performing a lot with the orchestras of El Sistema (the Venezuela Orchestra system). My first concert as a soloist with the orchestra was at age 7.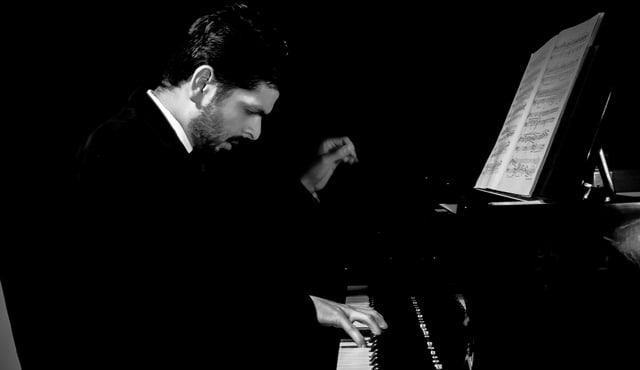 Where was the most significant presentation you had, and why?
I was 18 years old. I played Beethoven's Second Piano Concerto with the Berliner Symphoniker. It was a sold-out concert in the big hall of the Berliner Philharmonic, in Berlin, Germany, the most prestigious hall in the world. After that, I recorded my first CD at the Famous Siemens Villa in Berlin.
As a pianist with which artist, you would like to perform?
I admire deeply the legendary old school of Pianists. Horowitz, Rubinstein, Richter, and Cortot. Nowadays, musicians who are devoted to sending a message, inspired people with their art are the ones that move me. To name a few: Gabriela Montero, Martha Argerich, and Evgeny Kissin.
Who is your favorite composer?
Schumann is my all-time favorite. I relate to him on so many levels. His profound thoughts, his characterizations, his elevated soul. hopefully, I won't end up in a mental institution. Also Scriabin, because of his fascination for combining color and sound. And of course Rachmaninov, pure, raw and sincere passion.
Tell us about your last cd
My last CD is called "Miniatures" is an evocation of 9 little and rare jewels of classical music, performed on a live concert. Music from Russia (Scriabin, Lyadov), Mexico (Ponce) and Venezuela (Castellanos, Estevez, Nuñez).
What is your next goal?
My goal is to conquer the world with music. To make people feel again, be more human. To make them feel all different sensations, feelings. To make them change their mood, for better or worst, but to make them feel. In a world full of technology and isolation, I want to rescue what makes us really human. Also, I'm working on my third album, which is dedicated completely to my home country, Venezuela. The project is to bring people from the classical music world and for the pop/commercial world together in one place, through Venezuelan music of all time, and the acoustic piano as the connector element. A nostalgic homage to a country that once was the most avant-garde and prosperous country in the world, to his beauty, to his people. An album that will definitely touch your heart and elevate your soul.
To know more, about Kristhyan please visit: Kristhyan Benitez
Photo credits: 
Ricardo Conté @ricardocontephoto