3D Jewelry Printing by Marie Boltenstern
Marie Boltenstern is an expert in precious metal 3D jewelry printing. She is an Architect specialized in 3D Technology. For her, the biggest pleasure is to work at the forefront of possible manufacturing techniques. She loves mathematics, geometry and numbers and she is fascinated by the possibilities they offer for creating shapes. Also, she is a dedicated coder and love to bring together the worlds of Architecture, Fashion, Fine Jewelry, Luxury, Entrepreneurship, and Technology.
How did you get into fashion?
On the one hand, I grew up with fine jewellery – my father founded the brand Boltenstern 60 years ago and was a renown goldsmith and artist. For me, it was always clear to become an Architect until I've heard of a 3D printer that could directly print in gold and silver. I saw the chance of combining my affinity for technology with the family tradition and spontaneously took over the brand 3 years ago.
How did you come to start your own line?
For me, it was clear that I wanted to be the first one to directly 3D print in gold, silver and platinum. I approached the machine developers at a fair and luckily they agreed on starting a collaboration; shortly after I launched the world's first fine jewellery collection directly printed in gold. Half a year ago we launched 'Embrace' – integrating genuine gemstones and crystals in my designs.
Tell us about Boltenstern
With BOLTENSTERN we marry cutting-edge 3D technology with a long history and tradition in the fine jewelry and design world. My grandfather was an Architect, important for post-war reconstruction of Vienna. My father as an artist showed me that nothing is impossible in life. Bringing these aspects together in the brand makes it a pioneer
How would you describe your design aesthetic?
For me as a designer, jewelry is architecture in its smallest form. It is only by thinking in multiple dimensions that I can create pieces that are incredibly complex, yet desirably simple. My aim is to design jewels with a unique look and feel made of fine linked parts that adapt to the human body. Inspired by shapes in nature, the designs are based on strict mathematical rules, yet their outcomes are varying from one piece to another.
Tell us about 3d printing
3D printing enables me to realize shapes that have not been possible of being produced before. The most exciting part is that it enables me to create a series of unique pieces where each piece is similar to the others, but none of them is exactly the same. Therefore each person gets their very individual and personal piece. The printer doesn't care if it prints 1.000 pieces that are exactly the same or 1.000 pieces that are a bit different from each other.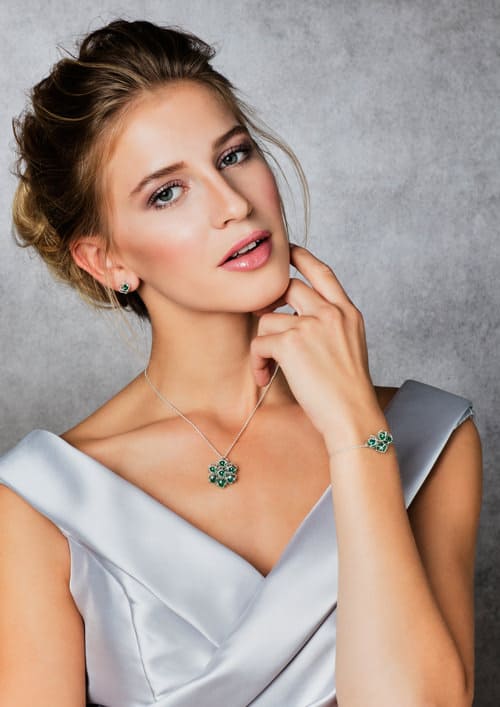 How your previous career influence you today as a designer
My career as an Architect is crucial for what I am doing today. Not much has changed in my mode of practice as a designer and in the way of how I realize my projects; I have been using the same 3D programs and thinking processes for the past 8 years since I started specializing in computer technology. So I consider Architecture as an indispensable part of my career.
How would you describe your personal fashion style?
Practical and Architectural! I like to dress up for occasions, but usually, you would find me in casual-smart business-style. Of course, a piece of my jewellery is never missing!
Where do you find inspiration for your creations?
I take my inspiration from natural formations and geometries of natural artifacts. I am fascinated by the endless outcomes of patterns and 3D-structures in nature and how organic shapes evolve from very mathematical principles.
Which phase is the most delicate in creating a piece of jewelry?
Since I am always looking into 3D structures before thinking of the overall piece it is for me the translation from the structure to an actual wearable piece of jewelry. It is so exciting when the pieces that in the computer look completely regular and mathematical, suddenly become alive like creatures when they come out of the printer, moving and adapting to the body.
What piece of advice would you give a young designer who just graduated from college?
Focus on realizing your ideas! No time is too short and no goal is too high, sometimes I am surprised by what is possible if you need to work under pressure and bring a project to the point. Also, there is no such thing like perfection, it is all a process, so better get things out there and receive valuable feedback to go the next steps.
What is elegance according to you?
Elegance is shining from inside. It is how you enter a room and fill it with your appearance in a delicate way. For me, it is all about transmitting positive energy.
What's next for you professionally?
We are on an exciting journey, opening new markets in 2018 including Switzerland and Hong Kong. The goal is to be perceived as the global pioneer in direct precious metal printing and scale Boltenstern to a solid and internationally known jewelry brand.
To more about Marie, please visit: Marie Boltenstern