Fashion Designer Gabriella Piccolo London
Gabriella Piccolo, is a young fashion designer graduate from the London College of Fashion, but her career started more than 5 years ago, collecting all the experience she could.
She made internships, by Mulberry Moon, The Rodnik Band, McQ Alexander McQueen and L'Wren Scoot. But more important she won the Graduate ASOS Marketplace and Clothes Show Live Competition.
She was also shortlisted by London College of Fashion and Unilever to participate in a high-profile event, celebrating 50 years of Unilever's brands. The event would showcase five looks from her graduate collection featured on an interactive catwalk and a reward of £500 would be received for the right to have her work shown.
We talk to her about her graduation collection by London College of Fashion and to get to know Gabriella a little bit more.
For those who don't know you, talk about your background.
My name is Gabriella Piccolo and I am 25. I am half English and half Italian. I studied Fashion Design and Development at London College of Fashion and lived in the vibrant East London for 5 years, I have recently moved back to my home town in the North of England.
When did you know you wanted to be a fashion designer?
I have always been creative, in school I always enjoyed Art. When I was 12 my grandma bought me my first sewing machine so from then I used to make little clothes. This passion grew more in high school when I specialised in Art Textiles. I just knew it was what I loved and enjoyed the most, so continued to study it at college then onto University.
What's it like being in the Fashion industry?
I can't really answer that as I am so new to it but it is very tough and extremely hard work. I think it is one of the hardest if not the hardest industry to go into as it is so competitive and challenging.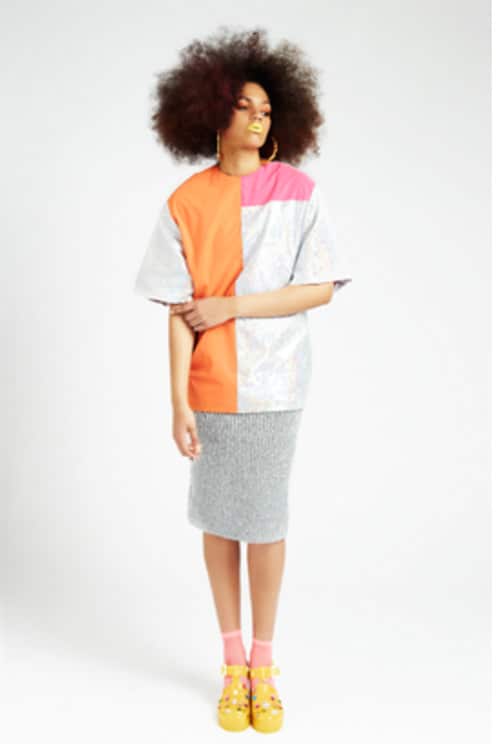 What was your first job in the fashion industry?
During my time at University in London, I undertook many internships and jobs throughout my studies. My first internship was at Glass Magazine assisting the stylist and my first fashion job could have been helping out at the Clothes Show for various brands.
Talk about the changes in your life since you have your own brand.
Since having my own brand you pretty much give your whole time to it as it is your own business. Everything is down to you so changes would be lack of time outside of the business. Also juggling working from your job to support you, allowing you to have your own brand then having a business of your own to do. Two jobs are very hard work and difficult.
Describe what do you do in your work?
In my work, I do everything, from the initial stages of ideas and inspiration into sketches and designs, to making and adapting patterns, to sewing the garments. As well as this trying to promote online through social media, keeping it up to date as possible.
What do you like about your work?
I like the creativity aspect of my work, being able to design garments and make them- seeing the process to the end is very rewarding.
What advice would you pass along to those starting out in the Fashion Business?
My advice would be to do what you love and love what you do. To have a lot of industry contacts and funding behind you and support so people can help you. As without these- which I am learning myself is very difficult.
What inspires you?
Places, imagery, photography, galleries, people. I love exploring new places and taking pictures wherever I go as I always see something that inspires me. It is fuel for the brain.
What was the inspiration for your last collection?
The inspiration for my last collection was a diffusion line from my Graduate collection. Which was based on trailer trash and gypsy travelers combining the two?
Which materials did you use?
The materials I used in my graduate collection were a wide range of fabrics from holographic to reflective fabric and printed fabric, which I designed myself. I also used knitting and reflective yarn in this to give the collection a hidden quality when a flash is triggered. The diffusion range was a condensed version of this using the holographic and printed fabric and translating some of the details across in the fastenings- using holographic zips.
Credits
Photography: Olgac Bozalp
Hair and MU: Fiona Barry
Model: Natasha Boyce