Milliner Louis Mariette
Milliner Louis Mariette is the epitome of perfection and elegance. Louis was co-host of the BBC's coverage of Royal Ascot. His passion and eye for detail make him a successful milliner. But Louis is more than just a milliner; he is a wonderful person, with a big heart, always working for a noble cause and all this with his feet placed firmly on the ground.
I must say, I enjoyed doing this interview with him. Not only did I get to talk with the milliner to the superstars, but I also got to know a wonderful human being.
Louis was born in Malawi and grew up in Botswana and Swaziland. With nature as his playground, Louis would spend endless hours exploring the flora and fauna, collecting everything from semi-precious stones, seedpods and cactus flowers to beads and trimmings from local tribes. Traveling as a child, Louis experienced the contrasting world and bright lights of London and was especially inspired by its glamorous café society. This, combined with the incredible palette of colors and textures found in the wildlife of Africa, became the central focus of Louis' inspiration and is brought to life through the exotic elegance of his designs today.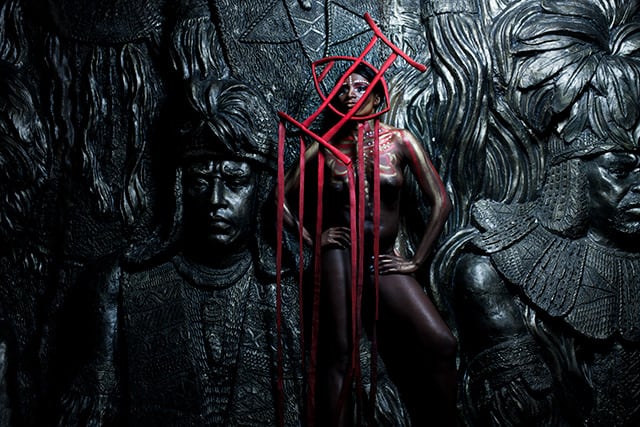 Based at his atelier in London, Louis is a self-taught milliner and has been breaking boundaries with his designs for eight years. Having previously worked as a party and wedding planner, his first show was in Milan in 2002, commissioned by renowned stylist Michael Dye, which gained Louis high praise and recognition. He was soon approached by Harrods to design one of his most spectacular creations, the 'Chapeau d'Amour', a $2.7 million hat made from a rare weave of platinum fabric studded with diamonds, for their newly refurbished hat department. Louis has been the official milliner at Investec Derby horse races where Erin O'Conner was the face of the event. He custom made a beautiful hat for the occasion based on the Lilac-breasted Roller Bird, one of his favorites in Botswana.
Additionally, he co-hosted the BBC fashion commentary with Suzi Perry at Royal Ascot for their 200-year celebration.
Louis has proudly supported the Children's Trust for over 12 years. In that time he has been Vice President, fundraised, created awareness through publicity, organized millinery demonstrations with his team for the children, run numerous marathons and even trekked Mount Kilimanjaro for them!
How did launching your brand change your life?
My life actually changed a remarkable amount. I used to work for somebody else. Working for yourself, you have the freedom to make decisions, and you get to choose the direction you want to go, and I love that.
My clients rarely give me tight specifications and they always allow me an element of creative freedom, usually asking me what I think would suit them best. It's lovely to feel valued and trusted and is flattering when you get the opportunity to work with people like that.
I value the importance of collaborations. I have been fortunate to have worked alongside some of the world's most prestigious companies and brands as well as talented and creative individuals such as photographers, stylists, makeup artists, and hairstylists.
What is a normal day for Louis Mariette?
I wake up every day at 6 am to go jogging or to the gym. I love the freedom I feel when I run. I have been running since I was a child, it's a good kick-start to the day and gets all the adrenaline and endorphins pumping! I think it's important to get a bit of exercise in our lives. As soon I have done my exercise I go directly to the atelier; my first moments of creativity are normally in the morning.
Where do you get your inspiration?
My favorite thing is when I travel to an exotic country. I pack all my tools, sketchpads and a few bits of millinery equipment. Early morning, when the sun is rising, you get to experience the crisp freshness of the day and I always feel the light is at its best; this is when the full force of imagination is released.
When did you know you wanted to be a milliner designer?
My career began in hotel management, for many years I worked in different hotels, and then I started my own business, which was party planning, and sometimes you don't plan anything in particular.
One time when I was planning a party, and I made a matching pieces for the head, one friend of mine Michael Dye, who is an amazing Creative director, ask me to make some pieces for a Fashion Show he was organizing.
I love the motive which was Orient Express in 1950, and I was agree to make the pieces, and it was a wonderful experience for me, where I got to fly to Italy and had an exposition.
Everything happens so fast, it was something it wasn't plan, and when I came back, after talking with a dear friend of mine, I was convince, I have to drop everything and dedicated myself to the Design & millinery business. And one of the things I love about my work is how flexible I can be.
How did you get started in the fashion world and what would you recommend to a person who wants to get into this industry?
In any career you go into, it's all about you as an individual. You have to be dedicated, motivated and work exceptionally hard. I think the fashion industry is a particularly good example, because of how large and diverse it is. Initially, some think it's just about being a fashion designer but when you have a business there's so much more to it: press, marketing, collaborations, diversifying and expanding your brand are just a few of the factors involved. You've got to think outside the box and be innovative. Also, since I've started the business, there's been a lot of development of technology and social media. This seems to be a whole new platform to expand your business through exposure and new forms of communication.
My advice to anyone who wants to get into this business is that if you don't knock at the door you will never get an answer. It is important you identify what your passion is because there are so many different areas of fashion to explore. You have to be a perfectionist whilst also getting it right the first time. It is really difficult to build back your brand if you give the wrong impression the first time. That first image is what people are going to remember.
For more information please visit: Louis Mariette