Perfect Summer Shoes
Vienna is the perfect city to walk around, and that's why is very important for me to have a pair of comfortable shoes. To find a coffee on the weekends and just sit down and enjoy a hot day outside, and disconnect from the busy with my significant other is essential.
One of my favourite spots is next to the Danube… Sometimes I just take my bicycle with my best friend and just drive along the Danube till we found the perfect spot to make a stop, and sometimes it gives me the feeling that I am not even in the city anymore.
Living in Vienna, and be proud to call this city my hometown, makes me realize how different the life is in here in compare with Venezuela, don't take me wrong I love my valley city of Caracas, but there you are always on the run and always on a car, here in Vienna the public transportation is one of the best of Europe, that you just leave the car at home and use it on the weekends.
This time I choose to combine my new pair of shoes with a nice summer dress and a jeans jacket.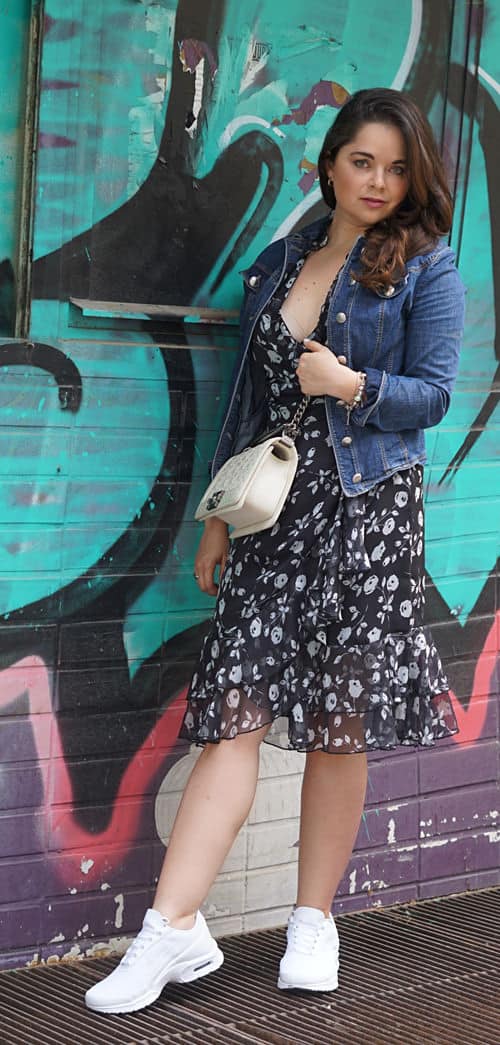 The White Sneakers
With summer here, I decided to pick a new pair of sneakers and I discovered a new online shoe shop named Footway. Footway is a European Online Shop that started in 2010 in Sweden. Today, you can order from England till Austria.
Although I had the opportunity to order for the first time at Footway, I was very overwhelming, with all the shoe products they have. At the beginning, I didn't know what to order. After taking a closer look of my closet, I decided to go for a pair of white sneakers that are perfect for summer.
I am a sneaker fan, especially because they are comfortable and easy to combine, and that's why is always a good idea to have a good pair for every occasion.
Footway not just have sneakers, they have all sort of shoes, they have from boots till heels, and for someone who is looking for a special pair, and this is the online shop to go.
The process to pick up your pair of shoes is really easy; however, the delivery time is amazingly fast, for my pair of sneakers it took just 3 days to arrive, and I was really excited to receive my new pair of sneakers.
I have never had a pair of completely white sneakers, and with the hot days we have had in Vienna, it seems like the perfect companion for a walk in the city, or at the Danube. I choose a pair of Nike Air Max Thea, which is extremely comfy and very lightly to wear.
If you are looking for a simple way to order your shoes, Footway is one of the easiest and faster with a large product range
Which are your favourite shoes for summer? Share them in the comments below
For more information, please visit: Footway
*Sponsored collaboration with Footway.