French Photographer Stephanie Rebeccu
Today I want to introduce you to the French Photographer Stephanie Rebeccu. Although she started her career as racehorse ride she was always interested in arts. She is a multidisciplinary artist who studied acting and worked in theater and street art also with big companies, and then she started with photography. Because she was, surrounded by photographers, she just started to like the photography world. Consequently, now she works more on 3D animations, and she creates motion shorts films and 3D animations for agencies and brands.
When did you know you wanted to be a photographer?
I needed to change my work, I wanted new experiences, new fresh vibes and I started to find works on photography, and I was inspired to pursue my photography career. I had an opportunity to work at the Paris fashion week, and I took it. And then all started.
What is most important at the moment you take a picture?
Finding the perfect angle. I'm obsessed with that.
From where you get your inspiration
From the people, the situation, the ambient, all that can be magical and inspiring.
How do you look for the perfect spots?
Sometimes I simply find it and then I organize a shoot, another time I have an idea and then I search for it, simply like that.
The shooting at the swimming pool, for example, was a blessing. I was in a fantastic and secret place, I met a beautiful model at the same time, and then we decided to make a shooting. It was very simple. No assistant, no production. Just a swimming pool a model and some magic.
Which photo are you currently most proud of?
The photo I am most proud of was my first shoot for the Paris fashion week.
I had to go to the Zuhair Murad presentation at the "Hotel Crillon". I was just discovering the fashion industry, I knew nothing about where I was and who was Zuhair Murad, and I was very lucky to shoot models in this fantastic place: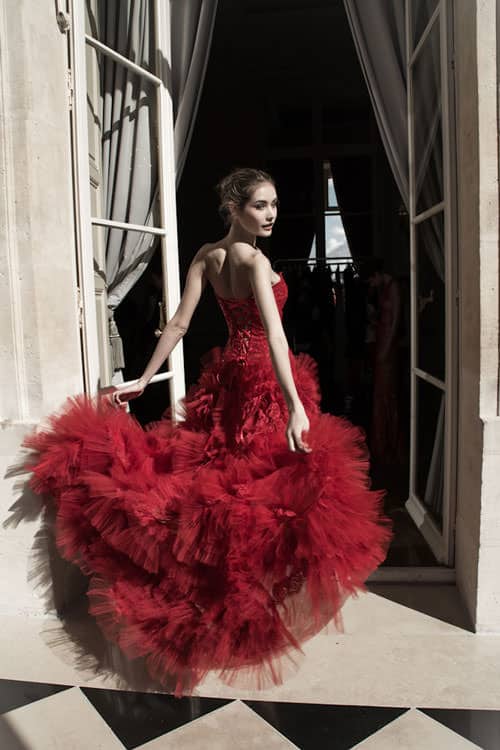 Describe a typical shoot.
Well, there is for me two important things of shooting days: the first one is a wild shooting day like this one made around the swimming pool, and the second that is coming in December, with different models, make-up artists, a fashion designer, and all prepared by advance with the team. It is important to have structured and prepared with a storyboard.
Were you educated in photography, or are you self-taught?
I'm totally autodidact. I come from an acting school, and I like to see things more like a movie, than fashion. I lose myself very quickly if I think, "fashion". I prefer storytelling.
What camera do you use most of the time?
A 5D markii.
How is the fashion Industry in your home country?
Full of ambitious and talented people, definitely!
Comparing where you are now with where you are when you first started, what could you have done differently to get to where you are sooner?
I think making things more personal, with ambitious people, more storytelling and fewer fashion weeks. I think there is something very confusing about the fashion weeks. All is perfect there; models are perfect, the light, the clothes, and the ambient. All are made of course to create a good shooting, a fantastic show, and finally, there is something very easy and impersonal. Almost nothing is the fruit of your real talent… All is beautiful and easy.. I really think it's a good way to lose your real creativity when you are a photographer; this is my point of view.
Favorite photography book?
Helmut Newton: Private Property
With whom you would like to work the most?
I love Paco Peregrin and David Lachapelle, Paolo Roversi on another style.
To know more about Stephanie, please visit: Stephanie Rebeccu
Photo-credits ( first two pictures)
Model: Audrey Senia