Marko Matysik Interview – Jury member Miss Vienna
Marko Matysik is the beauty editor for Vogue China and Japan and has been working for Vogue for over 20 years. He also writes his own section better known as Marko's Diary.
He graduated with honors at the London St Martin's School of Art and started working at the Victor Edelstein atelier. In 1995, he establishes his own label, called "Marko Matysik". As a fashion designer he is also a well-known couturier, and also sells highly covetable accessories under his label 'Marko' that are worn by Madonna, Karl Lagerfeld, Donatella Versace, and Daphne Guinness among others, made from spliced, rough-cut emeralds and gems sourced in China, Uruguay and the Congo set in silver.
He also worked as a freelance knitwear design company in Perugia. Their main clients were Montana and Valentino, and he designed for them. In New York, he started to sell collections for Manfred Schneider when he was 13. When both were based in Munich and there he designed for 6 years, RWT & HC collections. He is also the creative director of Yasmin Heinz Book Geschminkte Wahrheit and has more projects coming up, that we cannot wait to discover. Today we have the opportunity to talk to him, to ask him about his participation as a jury member for the Miss Vienna 2015 and his current projects.
What is most exciting about your career?
The possibility to work with different creative teams and to see the upcoming collections before they are seen on the catwalk.
What was your motivation growing up?
My mother and her friends telling me about my future carrier.
Did you have a sketchbook as a kid?
Naturally and I sill have sketchbooks now they are my visual diaries.
What was your first job coming out of school?
at 13 I worked with a couturier in München (Manfred Schneider) designing for his different collections.
What sparks your inspiration?
Nature or an amazing collection or a beautiful woman.
What is the most exciting about working with Yasmin Heinz?
Her creativity is beyond and you never know what the outcome might be.
What makes Yasmin Special?
Her artistic approach.
What was the message behind Yasmin Book?
Her first book was to inspire upcoming makeup artists.
Do you have another future project with Yasmin?
We are now working on her second book an English coffee table picture book.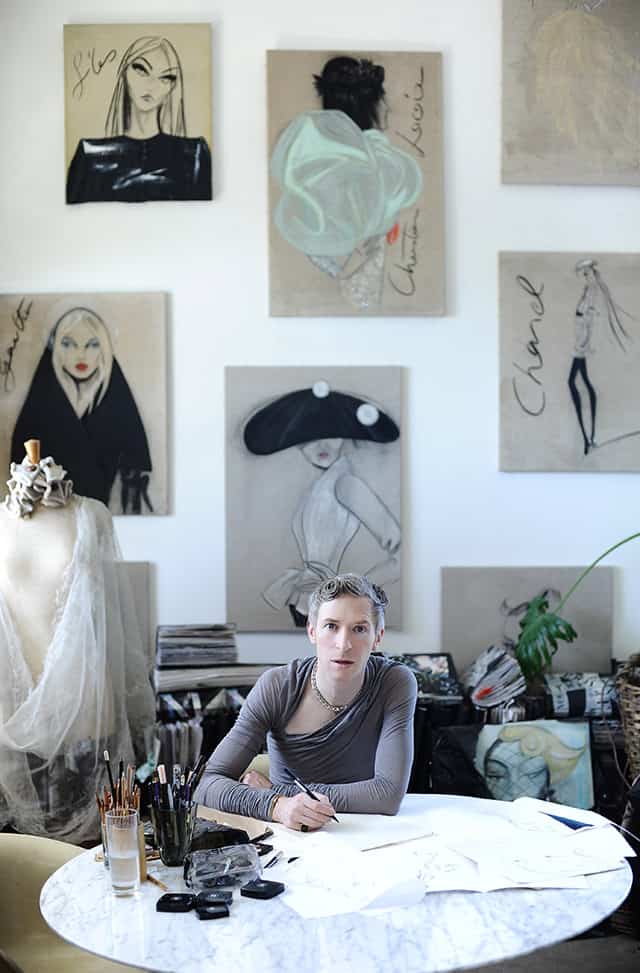 What does beauty mean to you?
A confident woman who is happy in her own skin.
You were invited to be part of the jury of miss Vienna 2015 together with Yasmin Heinz, how do you prepare yourself for it?
So far I have not had time to do any preparation due to urgent deadlines but towards the end of this week, I will do a bit of research.
What do you expect from Miss Vienna?
For Miss Vienna, I hope to meet beautiful intelligent women that have something to say.